Youth Transgressions in the Vietnamese Creative City
hanoi
27 August 2018
From Zone 9 to Hanoi Creative City
This case study explores the ephemeral use of space by Hanoian youths and the re-appropriation of their creative and artistic practices by institutions. This case focuses on the history and trajectory of a spontaneous creative district project in Hanoi which was known as "Zone 9" during its short lifespan.
How do young contemporary artists and creative enterpreneurs in Hanoi navigate the emergence of a Vietnamese Creative City? What are their transgressive practices? And how do they react to attempts to institutionalize some of their practices?
Zone 9 – A Documentary (Trailer) from Thu Nguyen on Vimeo.
Sometimes around May 2014, a group of contemporary artists appropriated a derelict industrial compound in central Hanoi. In a matter of a few weeks, these artists along with what we may call « creative entrepreneurs » turned this former industrial site into a hub of creative activities but also into a space where youths experimented a high degree of freedom, participated in various forms of entertainment, and experimented with new ideas, practices and social relations, blending in with foreigners and contemporary artists. All of this occurred with limited control from the part of formal authority, making Zone 9 an unusual phenomenon in the context of Hanoi.
This experiment – the first creative hub in Hanoi – was a tremendous success, especially with well-off, urban, educated youths. Yet, only 7 months into this experiment, a fire occurred in a part of the building under renovation that killed one worker and without further warning, the place was closed down. A few months later, one of Zone 9's founder, a well-known architect, stroke a deal with the City government to open a new, much more structured and policed « creative hub » in a high-rise building which he called « Hanoi Creative City ».
The goal was not only to attract some of the contemporary artists that had found a home in Zone 9 but also to turn Hanoi Creative City into an engine in the structuring of Hanoi's Creative Economy (an objective backed by the City government). Although the creation of Hanoi Creative City was essentially a private initiative, it nevertheless tried to institutionalize several features of Zone 9, including : tighter controls on youth activities on its premise, selection of tenants based on economic criteria, etc. In this context, this case study seeks to understand how this institutionalization process impacted youths involved in each project (Zone 9 and Hanoi Creative City), especially with regard to their transgressive practices in virtual and public spaces.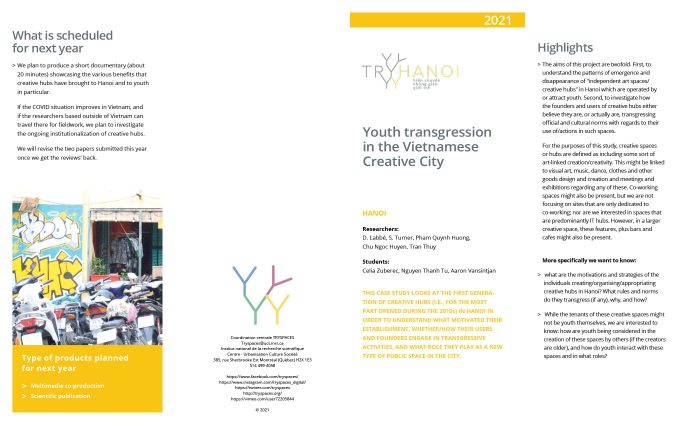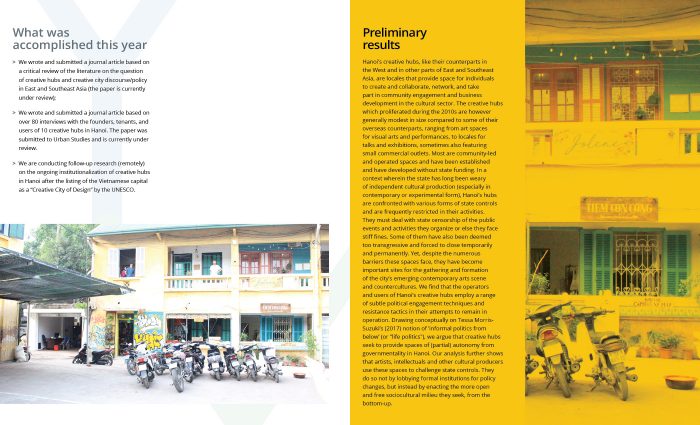 Click here for 2021 a4 printable version and the 8.5 x 11 printable version.
Click here for 2020 a4 printable version and the 8.5 x 11 printable version.
Click here for 2019 a4 printable version and the 8.5 x 11 printable version.
2018 versions not available.