Digital Lab on public spaces: a success!
17 June 2020
What an amazing week it has been with all the participants of the first digital lab on public spaces organized by Tryspaces. Nearly 50 people joined this week-long of online activities to meet, exchange on their research project and discuss on different transformation of public spaces, especially in time of COVID-19.
Here is an overview of the main activities of the week
Opening panel
THE CHALLENGES OF THE PUBLIC SPACE AT THE TIME OF COVID-19
Description: An opening panel that seeks to answer the following questions:
How is the public space in your city practiced and developing in a time of social distancing due to COVID-19?
How do participatory research and activities usually carried out in public spaces adapt and are carried out in these times of confinement?
What are the opportunities and limitations?
The panelists:
Alice Miquet (Conseil jeunesse de Montréal) / Nathalie Boucher (RESPIRE organization) / Sarah-Maude Cossette (Montreal student) on the experiences of digital workshops conducted with Montreal youth;
Pham Quynh Huong (Hanoi researcher) on the interviews conducted with youth in Hanoi on the subject of confinement;
Jeanne Demoulin and Marie-Hélène Bacqué (Paris researchers) on the interviews conducted with youth in Paris on the topic of confinement;
Juan Manuel Erazo, Culturans (techno-artistic partner from Mexico City) on artistic and digital interventions and public space in the time of COVID-19.
Moderator: Célia Bensiali, a student from Montreal whose research interests include digital spaces and youth participation.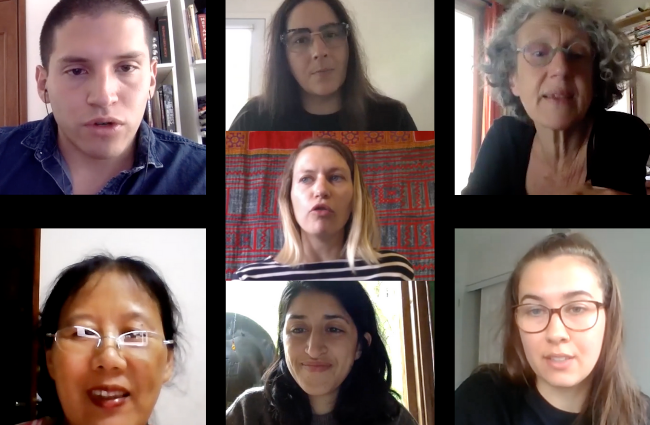 Collaborative cartography activity
COLLECTIVE MAPPING
Throughout the week, participants were invited to visualize what the question asked each day inspires you with a hand drawing that you can import as a picture, or upload a photo, into this collective document. It was also possible to comment on the contributions of other participants.
Mystery match activity
FIND YOUR SECRET FRIEND IN TRYSPACES!
Description: the Student Alliance invited the participants to play the secret friend – mystery match – of TRYSPACES. The idea was that, throughout the week, participants communicated with text, photos and/or video with an assigned secret friend to get to know a little more about the TRYSPACES team.

Gallery #TRYInnerSPACES
ALBUM OF PHOTOS, VIDEOS, AND TESTIMONIALS
Participants were invited to consult the gallery available on the Lab group to see the results of the call for papers #TRYInnerSPACES. Participants also voted for their favorite contributions during the week.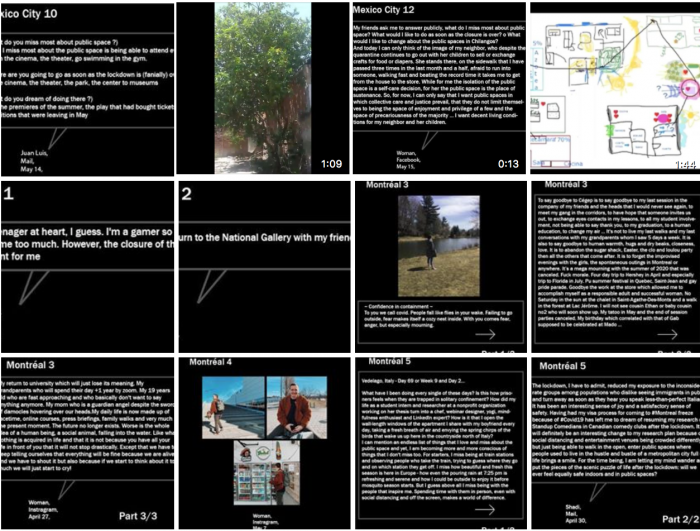 Contents to take away
PODCASTS, PANELS, READINGS
List of podcasts, panels and readings from various sources and in various languages on the themes of the transformation of public space in the time of COVID-19.

Ciné-TRYSPACES: collective screening
SELECTION OF VIDEOS AND MEDIA TRYSPACES
Screening with discussions over TRYSPACES partners' creations and projects in process. The techno-artistic partners answered questions and a discussion was done with all participants attending the screening.
Partners invited
PARTICIPATING COMPARATIVE THEMATIC WORKSHOPS
The purpose of these comparative workshops on the 5 emerging themes of TRYSPACES was to initiate exploratory discussions and comparative thinking among various members of TRYSPACES. The goal was not to produce final comparative contents of comparisons, which will be done at a possible face-to-face meeting next year. This live event was held on two days during the Lab.
Workshop 1 – intersectionnaly and transgressive visibility – expression of identity in the face of indifference | Moderator: Leslie Touré Kapo | Traduction and technical aspect: Marie-Ève Drouin Gagné et Alexia Bhéreur-Lagounaris

Workshop 2 – space occupation – appropriation, conflict | Moderator: Alice Lancien | Traduction and technical aspect: Alexandra Nadeau

Workshop 3- stigmatization – being labeled "transgressive" without transgressive practices | Moderator: Angela Bacca | Traduction and technical aspect: Julie-Anne Boudreau

Workshop 4 – professionalization vs risk taking – transgression can be a springboard for a life project | Moderator: Mélissa Moriceau | Traduction and technical aspect: Julie-Anne Boudreau

Workshop 5 – mulit-scalar regulation – What are the opportunities for transgression when an order is stabilized? | Moderator: Adriana Farfan | Traduction and technical aspect: Alexandra Nadeau and Marie-Ève Drouin-Gagné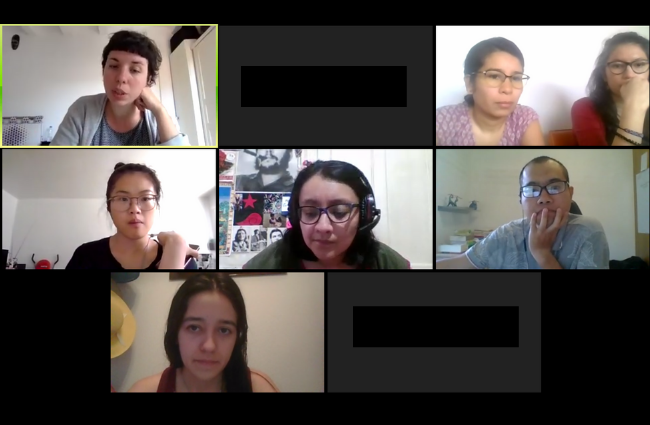 Closing panel
WHAT FUTURE FOR POST-COVID-19 PUBLIC SPACES?
Description: Closing panel that seeks to answer the following questions:
What will become of the post-COVID-19 city?
What opportunities for young people, for art, for research, for multimedia projects?
The panelists:
Alejandra Leal (researcher from Mexico City);
Jacob Desjardins (Montreal student who is also working on Mexico City);
Christine Bellavoine (Paris partner);
Annabelle Mir (Hanoi student).
Moderator: Julie-Anne Boudreau, principal investigator of TRYSPACES

Thanks again to all the participants, see you soon online!
*More content from the Lab to be shared soon