Montreal-North seen and told by the youth
23 October 2019
In the winter and spring of 2019, several meetings and workshops were held with the six youth involved in the TRYMTL project and the research team with our partner Librairie Racines in Montreal-North. These meetings were an opportunity to explore with the youth their neighbourhood and the narratives that accompany it, through their perspectives and particular experiences. Thus, through different processes, we have collectively created narrative maps of their spaces of socialization and engagement, but also of places and spaces of regulation and surveillance/control.  
A first collaborative mapping workshop was held in winter 2019 at the Racines library. This workshop allowed us to develop a common understanding of the neighbourhood and transported us to Montreal-North as practiced by the youth.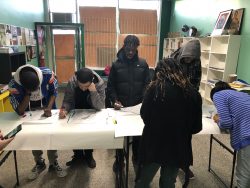 In the spring, the youth equipped with telephones made us explore their daily lives using the Instagram application, bringing images and sounds to their daily life and these practiced spaces already mentioned in winter. Finally, in the summer, guided tours allowed visitors to learn more about these places and also to practice the northern Montreal public spaces with them.